Leave It To Beaver Episodes 1957-1963 CBS, ABC. Season 5 1961-62.

Going Steady 9-30-61 Ward and June are alarmed that Wally may be getting too serious about Evelyn, a girl he has been dating. Ryan O'Neal played the part of Tom Henderson. Wally asks Judy "Do you think Maris or Mantle will hit 60 home runs this year?" The day after this episode aired, which was 10-1-61, Roger Maris hit 61 home runs in a single season. Maris was credited with breaking Babe Ruth's record of 60 home runs in a season, in 1991.

No Time for Baby Sitters 10-7-61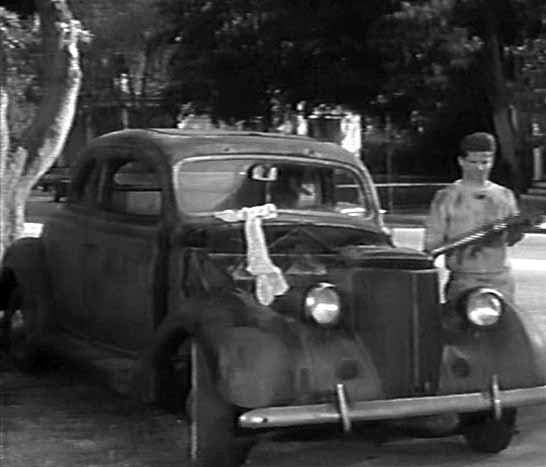 Wally's Car 10-14-61 Wally buys a car for $25 even though he doesn't have a driver's license. Ward tells Wally insurance for the car would be expensive.
Beaver's Birthday 10-21-61
Beaver's Cat Problem 11-4-61
Wally's Weekend Job 11-11-61 Mr. Gibson at the soda fountain gives Wally a job as a soda jerk at Mayfield Drugs. So Wally is at his new job and the girls are really admiring him. The girls talk about their slumber party they're having saying no boys are allowed. Eddie and Lumpy are there and things start to happen.
Beaver Takes a Drive 11-18-61 Beaver and Gilbert are playing around in Ward's car that's parked in the driveway pretending like they are adults. It's fun until Beaver releases the brake and the car ends up in the middle of the street.
Wally's Big Date 11-25-61 The schools, Mayfield and Riverside, are having a dance that combines students from both schools. The students pick names out of a bowl and that's who they take to the dance. But Eddie has a plan that involves Wally.
Beaver's Ice Skates 12-2-61 Ward agrees to give Beav money to buy a season ticket to the ice skating rink. Then dad agrees to let his son buy ice skates. But Beav gets tricked by a shoe salesman. This episode was directed by Hugh Beaumont.
Weekend Invitation 12-9-61
Beaver's English Test 12-16-61
Wally's Chauffeur 12-23-61 When going to the dance in Lumpy's car doesn't work out, Evelyn decides to drive Wally to the dance. Lumpy and his buddies have something in mind.
Beaver's First Date 12-30-61
Ward's Golf Clubs 1-6-62
Farewell to Penny 1-13-62 Beaver doesn't want to go to Penny's party. Penny is surprised when she finds out her mother invited Beaver. Whitey tells the Cleavers it's a farewell party for Penny and his mother is making him go. Mrs. Woods, Penny's mother, is played by Jean Vander Pyl, who is the voice of Wilma Flintstone from The Flintstones. Wendell Holmes played the part of Mr. Blair, Beaver's teacher. Wendell also played the part of Andy, the housepainter who drank a little too much, in the episode Beaver and Andy.
Beaver the Bunny 1-20-62 Beaver is selected to play a bunny in the school pageant and he hates the idea. Ward is delayed at the office on the day of the play. Wally and Beav, in his bunny custome, get a ride with Lumpy, who has a flat tire. And then Beav has a problem. Directed by Anton M. Leader.
Beaver's Electric Trains 1-27-62 June calls Florence Batson and asks if her 8 year old son Jimmy would like Beaver's old electric trains and she said yes. June asks Beav if she can give the trains away and he agrees. Beaver and Gilbert get to playing with the train set and they find out how much fun they still are. This episode was directed by Hugh Beaumont.
Beaver's Long Night 2-3-62
Beaver's Jacket 2-10-62
Nobody Loves Me 2-17-62
Beaver's Fear 2-24-62 Beaver gets included in an older group with Wally because they need a certain number to get a good deal at the amusement park that's in *Bellport. Beaver starts to get worried when his friends start telling him about the rollercoaster ride. So he has a talk with Gus the fireman. The scene aboard the rollercoaster with the 5 boys is a true joy.
Three Boys And A Burro 3-3-62
Eddie Quits School 3-10-62 Eddie quits school and takes an $80 a week job at Thompson's garage. When Lumpy and Wally go by the garage to get a fan belt, they discover Eddie is not doing well at his new job. Later, Wally gets an idea.


Wally Stays at Lumpy's 3-17-62 After Lumpy's party ended, he discovered a stain on the carpet he made. To keep Lump from getting into so much trouble with his father, Wally stays overnight with him to help out.
Beaver's Laundry 3-24-62 The brand of the soap used by Beav and Richard was Star Soap. Based on the way Richard said his grandmother lives in *California, Mayfield probably wouldn't be in that state.
Lumpy's Car Trouble 3-31-62 Lumpy was going to drive Wally and Beaver to the track meet but he had car trouble. So Wally was asking permission for Lumpy to drive Ward's car.
It appears people were aware of heavy food in 1962, when Wally tells his mom he couldn't eat her bacon because he has a track meet coming up and it settles heavy in his stomach.
Fred Rutherford made the classic comment about his son, Lumpy, "You needen worry about Clarence, Ward. When it comes to brains, he's got a head on him like the Rock of Gibraltar".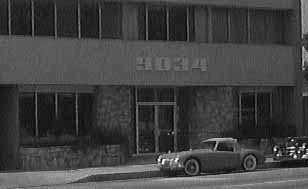 This is Ward's office.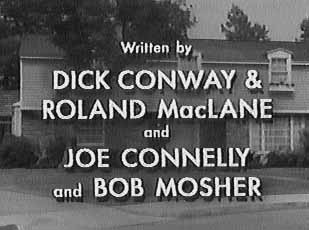 This episode had 4 writers, Dick Conway & Roland MacLane and Joe Connelly and Bob Mosher. I felt this was one of the best writing teams in television. Dick and Roland wrote many of the Life of Riley episodes with William Bendix.


Beaver the Babysitter 4-7-62 Wally and Eddie and some girls have a double date, but Wally forgets he was scheduled to babysit that night. Marjorie Reynolds is in this episode. Marjorie Reynolds (pictured) played Peg Riley and William Bendix played Riley in TV's Life of Riley.
The Younger Brother 4-14-62
Beaver's Typewriter 4-21-62
The Merchant Marine 4-28-62 When merchant marine material shows up in their house, Ward and June think it's meant for Wally.


Brother vs. Brother 5-5-62 Gilbert and Beaver have different reactions to a new girl student, Mary Tyler. Beaver does like Mary but he encounters a conflict.
Yard Birds 5-12-62 Wally and Beav are supposed to clean up the yard and call the man to haul away the junk. But they goof off.
Tennis, Anyone? 5-19-62 Wally gets caught in a mess with a girl he meets at the tennis court.
One of the Boys 5-26-62
Sweatshirt Monsters 6-2-62 The boys buy hideous looking sweatshirts. Someone comes up with the idea of wearing them to school.
A Night in the Woods 6-9-62 Some boys are going on a camping trip. But the father that was going with them is not going. Eddie (Ken Osmond), Gilbert (Stephen Talbot), Lumpy (Frank Bank), The Forest Ranger (John Hart), Whitey (Stanley Fafara), Alan (Mark Murray).
John Hart did play The Lone Ranger on the TV series of the same name but not for the entire series.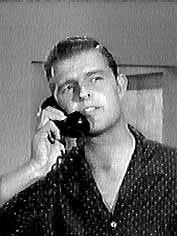 Long Distance Call 6-16-62 Beaver and his pals decide to make life interesting around the house by calling long distance to talk to Los Angeles Dodgers great Don Drysdale.
Stocks and Bonds 6-23-62 Wally and Beav decide to get in the stock market. They want Jet Electro stock but their father suggests Mayfield Power.
Un-Togetherness 6-30-62 Is Wally interested in a girl or a family vacation? Eddie (Ken Osmond), Lori (Brenda Scott)
This was season 5 of the Leave It To Beaver episodes.
Leave It To Beaver Episode Guide. Season 1, 1957-58. Season 2, 1958-59. Season 3, 1959-60. Season 4, 1960-61. Season 5, 1961-62. Season 6, 1962-63.
LEAVE IT TO BEAVER TABLE OF CONTENTS
Leave It To Beaver season 5 last updated 11/19/12