Leave It To Beaver Episodes 1957-1958 CBS 1958-1963 ABC. Season 4 1960-1961.

Beaver Won't Eat 10-1-60

Beaver's House Guest 10-8-60 Beaver learns about his friend Chopper's broken home. Directed by Norman Abbott. Written by Arthur Kober. Chopper Cooper (Barry Gordon). Uncle Dave (Clark Howat)

Beaver Becomes a Hero 10-15-60 Beaver pulls a deserted canoe in and Wally helps.

Beaver notices his name is misspelled.

Wally The Lifeguard 10-22-60

Beaver's Freckles 10-29-60 Lumpy calls Beaver freckles.

Angela Valentine's extra toe is mentioned. Stephen Wootton as Clyde Appleby.

Beaver's Big Contest 11-5-60

Miss Landers' Fiance 11-12-60

Eddie's Double Cross 11-19-60

Beaver's IQ 11-26-60

Wally's Glamour Girl 12-3-60 Wally is in a position to take a girl, Kitty Bannerman, to a dance, a position he wants to avoid. Bernadette Withers, who played Kitty Bannerman, does an excellent job.

Chuckie's New Shoes 12-10-60

Beaver & Kenneth 12-17-60

Beaver's Accordion 12-24-60

Uncle Billy 12-31-60

Teacher's Daughter 1-7-61

Ward's Millions 1-14-61

Beaver's Secret Life 1-21-61 Beaver decides to be a writer when he grows up.

When Jerry Mathers was promoting his book "And Jerry Mathers as the Beaver", he said in the interview, that Joe Connelly, one of the producer-writers of "Leave It To Beaver", had always dreamed of being a writer. So then Joe kept this diary of what went on around him. The name Beaver came from that diary. When Joe was serving on a destroyer in the Pacific during World War II, one of his shipmates was named the Beaver. Joe Connelly was listed as one of the writers for "Beaver's Secret Life".

Wally's Track Meet 1-28-61 Wally is told he is off the track team for a week.

The TV show Men Of Annapolis is mentioned in this episode.

Beaver's Old Buddy 2-4-61

Beaver's Tonsils 2-11-61

The Big Fish Count 2-18-61 The pet store holds a contest to see who can guess how many fish are in the tank. NOTE: Maybe it's just me but Beaver's voice sounded different like it had been dubbed in later.

Beaver's Poster 2-25-61 Beaver needs a poster painted for school.

Mother's Helper 3-4-61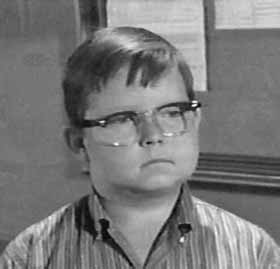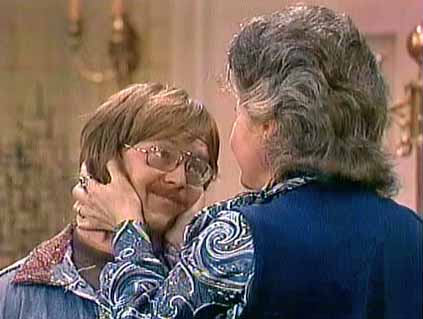 The Dramatic Club 3-11-61 (top picture) Harry recites the poem "Casey at the Bat" in this episode. (bottom picture) Maude needs some marijuana from her nephew, Jeff, for a protest she and some other ladies are involved in, in the "Maude" episode, "The Grass Story" (12-5-72). Both roles are played by Keith Taylor.
Wally and Dudley 3-18-61
Eddie Spends the Night 3-25-61


Beaver's Report Card 4-1-61 Beaver gets a D- in arithmetic, but it's changed to a B+ by Mayfield's local prankster.
Mistaken Identity 4-8-61 Richard Rickover breaks out a window in an old house and blames it on Beaver.
The old abandoned house in this episode was also used for the TV show "The Munsters". "The Munsters" and "Leave It To Beaver" were created by the same people.
Wally's Dream Girl 4-15-61
The School Picture 4-22-61 Gilbert convinces Beaver that they both should make funny faces when the photographer takes their class picture.
Beaver's Rat 4-29-61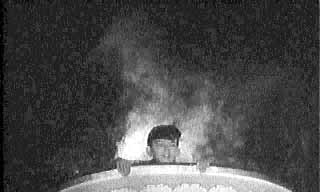 In The Soup 5-6-61 One of the most memorable of Whitey's appearances on Leave It to Beaver was in this episode. Beaver and Whitey see a Zesto Soups billboard and there is steam coming out of the soup cup in the lady's hand. There's a dispute between the two if the soup is real.
Community Chest 5-13-61 Beaver loses the money he collected for the Community Chest.
Lee Meriwether was in this episode. She was 1955's Miss America and was on CBS-TV's "Barnaby Jones".
Junior Fire Chief 5-20-61
Beaver's Frogs 5-27-61 Beaver wants to buy a canoe.
Beaver Goes into Business 6-3-61
Kite Day 6-10-61
Beaver's Doll Buggy 6-17-61
Substitute Father 6-24-61
This was season 4 of Leave It To Beaver.
Leave It To Beaver Episode Guide. Season 1, 1957-58. Season 2, 1958-59. Season 3, 1959-60. Season 4, 1960-61. Season 5, 1961-62. Season 6, 1962-63.
LEAVE IT TO BEAVER TABLE OF CONTENTS
Leave It to Beaver episodes season 4 last updated 6/20/12