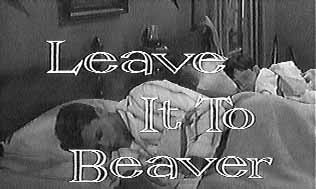 Leave It To Beaver episodes season 3 1959-1960. Above pic is the 1959-1960 logo.

Blind Date Committee 10-3-59 This was the first episode where the Cleavers lived in the house at 211 Pine.

Beaver Takes A Bath 10-10-59

School Bus 10-17-59

Beaver's Prize 10-24-59

Baby Picture 10-31-59

Beaver Takes a Walk 11-7-59

The Borrowed Boat 11-14-59 Beaver and Larry are on Friends Lake in a stolen boat.

Beaver's Tree 11-21-59

Teacher Comes to Dinner 11-28-59

Beaver's Fortune 12-5-59

Beaver Makes A Loan 12-12-59

Beaver the Magician 12-19-59

June's Birthday 12-26-59

Tire Trouble 1-2-60

Larry Hides Out 1-9-60

Pet Fair 1-16-60

Wally's Test 1-23-60 Someone's cheating on a test.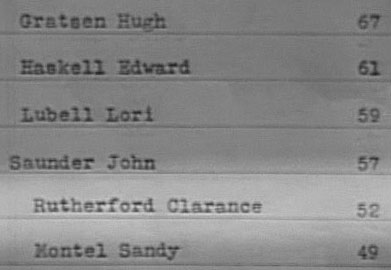 The spelling of Clarance is shown.
Beaver's Library Book 1-30-60
Wally's Election 2-6-60 Wally doesn't like the idea of running for class president but has a change of heart after a talk with his dad. Eddie Haskell (Ken Osmond), Fred Rutherford (Richard Deacon), Lumpy Rutherford (Frank Bank), Tooey Brown ("Tiger" Fafara), Chester Anderson (Buddy Hart), Mr. Hyatt (Ross Elliott), Frances (Ann Barnes), Carol Sydes, Dennison Kerlee
Beaver and Andy 2-13-60
Beaver's Dance 2-20-60
Larry's Club 2-27-60
School Sweater 3-5-60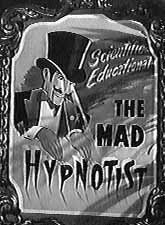 The Hypnotist 3-12-60 Beaver and Larry see a movie called The Mad Hypnotist. It gives Beaver the idea to try to be a hypnotist himself.
In this episode for his job, Ward was doing a survey for the home office, keeping track of women shoppers. June tells Ward he's going to have it quiet around the house, Wally's going out and Beaver went over to Larry's right after Sunday School. Wally mentions that there was a big slide on Crest Highway and Lumpy's father was taking them up to look at the mud.
Wally and Alma 3-19-60
Beaver's Bike 3-26-60
Wally's Orchid 4-2-60
Ward's Baseball 4-9-60
Beaver's Monkey 4-16-60
Beaver Finds a Wallet 4-23-60
Mother's Day Composition 4-30-60
Beaver and Violet 5-7-60
The Spot Removers 5-14-60 Wally's suit gets a horrible odor when Beaver hangs his dirty jacket on top of it. After the suit comes back from the cleaners, Richard Rickover spills baseball glove oil on it. Since Beaver introduced Richard to June and Wally, this might have been one of the first episodes he was in.
Beaver the Model 5-21-60
Wally the Businessman 5-28-60
Beaver and Ivanhoe 6-4-60
Wally's Play 6-11-60
Last Day of School 6-18-60
Beaver's Team 6-25-60
This was season 3 of Leave It To Beaver.
Leave It To Beaver Episode Guide. Season 1, 1957-58. Season 2, 1958-59. Season 3, 1959-60. Season 4, 1960-61. Season 5, 1961-62. Season 6, 1962-63.
LEAVE IT TO BEAVER TABLE OF CONTENTS
Leave It To Beaver episodes season 3 last updated on 6/20/12