Ozzie and Harriet (10/3/1952 - 9/3/1966 on ABC)

Some episodes can be viewed online at archive.org and at liketelevision.com

The Adventures of Ozzie and Harriet, starring the entire Nelson family. Here's Ozzie, who plays the part of Ozzie Nelson, and of course his lovely wife Harriet as Harriet Nelson. The older of the Nelson boys, David, appears as David Nelson, and his younger brother, the irrepressible Ricky, played by Ricky Nelson. The Nelson's next door neighbor, Thorny, is played by Don DeFore.

When Rick has a song in an episode, I've highlighted the word sings or sing, with an asterisk like this, *sings or *sing.

The Rivals 10-3-1952

The Poet 10-10-1952

The Pills 10-17-1952

Fall Guy 10-24-1952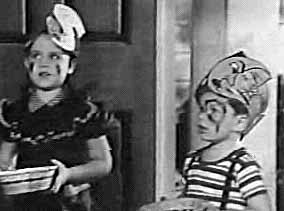 HALLOWEEN PARTY 10-31-1952 This episode is viewable online at archive.org
Jerry Mathers (Beaver Cleaver from Leave It To Beaver) is in this episode. (on the right)
Riviera Ballet 11-7-1952
David, The Babysitter 11-14-1952
Rick Goes To A Dance 11-21-1952
Day After Thanksgiving 11-28-1952
Thorny's Gift 12-5-1952
Harriet's Hairdo 12-12-1952
Boys' Christmas Money 12-19-1952
Late Christmas Gift 12-26-1952
Newspaper Write-Up 1-2-1953
Basketball Players 1-9-1953
Stop Worrying 1-16-1953
Tuba Incident 1-23-1953 This episode is viewable online at archive.org
Rover Boys 1-30-1953
Separate Rooms 2-6-1953
Valentine Show 2-13-1953
The Traffic Signal 2-20-1953 This episode is viewable online at archive.org
Dental Receptionist 2-27-1953
The Speech 3-6-1953
Safe Crackers 3-13-1953
Brother Beesley's Philosophy 3-20-1953
Bowling Alley 3-27-1953
This episode is viewable online at archive.org
This episode is also viewable online at liketelevision.com
The Orchid And The Violet 4-3-1953 This episode is viewable online at archive.org
PANCAKE MIX 4-10-1953 This episode is viewable online at archive.org
The Nelsons discover there's a double your money back guarantee from the Hasty Tasty Pancake Company if they are not the finest you've ever eaten. A trip to the store shows Ozzie that someone is cashing in on this offer. Ricky has his signature line, "I don't mess around boy".
Grocery man (Sterling Holloway), A.K. Bailey (Frank Nelson), Mr. Crawford (Hal Smith)
Whistler's Daughter 4-17-1953
Fish Story 4-24-1953
Night School 5-1-1953
The Traders 5-8-1953
The Boxing Matches 5-15-1953
A Door Key For David 5-22-1953
The Play's The Thing 5-29-1953
Monetary System 6-5-1953
Who's Walter 6-12-1953
Curiosity 6-19-1953
Oscillating Ozzie 6-26-1953
New Chairs 9-18-1953 This episode is viewable online at archive.org
The Party 9-25-1953
Boy's Paper Route 10-2-1953 This episode is viewable online at archive.org
Window Pane 10-9-1953
David's Pipe 10-16-1953
David's 17th Birthday 10-23-1953 This episode is viewable online at archive.org
No Noise 10-30-1953
The Hustler 11-6-1953
Boys' Day 11-13-1953
The Suggestion Box 11-20-1953 This episode is viewable online at archive.org
The Ladder 11-27-1953
Parental Guidance 12-4-1953
The Insurance Policy 12-11-1953
Credit Reference 12-18-1953
The Miracle 12-25-1953
The Hunter 1-1-1954
Ozzie's Night Out 1-8-1954
The Cameras 1-15-1954
Courage 1-22-1954
The Incentive 1-29-1954
Too Many Children 2-5-1954
David's Career 2-12-1954
Harriet Gives A Party 2-19-1954
Old Fashioned Remedy 2-26-1954
The Initiation 3-5-1954 This episode is viewable online at archive.org
Ricky's Lost Letter 3-12-1954
Father And Son Tournament 3-19-1954 This episode is viewable online at archive.org
Gentleman David 3-26-1954
David Writes A Column 4-2-1954
Over Protection 4-9-1954
Be On Time 4-16-1954
AN EVENING WITH HAMLET 4-23-1954 This episode is viewable online at archive.org
The television set is broken so finding something else to do is in order. David has a class assignment of reading Hamlet and comments it's a little difficult to read but if someone read it to him he wouldn't mind. Ozzie suggests putting on a production of Hamlet in their living room.
John Carradine, who is in this episode, played Aaron in The Ten Commandments (1956 movie directed by Cecil B. DeMille). He was Casy in The Grapes of Wrath (1940 movie directed by John Ford).
Announcer Verne Smith said at the end of the show that a completely different episode of Ozzie and Harriet could be heard on radio every Friday night. You were to consult your newspaper for time and radio station. Verne Smith was the announcer on the radio version of Ozzie and Harriet.
Cameron Whitfield (John Carradine), Doctor Williams (Frank Cady), Television Repairman (Henry Kulky)
New Neighbor 4-30-1954
The Bird's Nest 5-7-1954 This episode is viewable online at archive.org
A Friend Of The Family 5-14-1954
A Tuxedo For David 5-21-1954
The Painter 5-28-1954
Operation Economy 6-4-1954
Swimming Pool 6-11-1954
Wedding Anniversary 10-8-1954
Too Many Ties 10-15-1954
The Furnace 10-22-1954
A Load Of Gravel 10-29-1954
The Usher 11-12-1954
Come As You Are Party 11-19-1954
Dipple Door 12-3-1954
Odd Bolt 12-10-1954
Matter Of Inches 12-17-1954
Lost Christmas Gift 12-24-1954
The Fruitcake 1-7-1955
The Bloodhound 1-14-1955
Missing Sandwiches 1-21-1955
Individuality 1-28-1955
Electric Train 2-4-1955
A Matter Of Principle 2-11-1955
Career Woman 2-18-1955
The Girl Who Came To Dinner 2-25-1955
The Sportscar 3-11-1955
Ricky's Blind Date 3-18-1955
Spring Housecleaning 3-25-1955
Pajama Game 4-1-1955
Ricky's Shadow 4-8-1955
The Witness 4-15-1955
Ricky's Charge Account 4-22-1955
The Testimonial 4-29-1955
Thorny's Piano 5-6-1955
Stray Dog 5-27-1955
David's Engagement 9-23-1955
Homemade Ice-Cream 9-30-1955
Football Hero 10-7-1955
Invitation To Dinner 10-14-1955
Carnation Perfume 10-21-1955
The Campers 10-28-1955
Man Across The Street 11-11-1955
Music Appreciation 11-18-1955
A Ball Of Tinfoil 11-25-1955
Wedding Rings 12-2-1955
Gay Blade 12-9-1955
Eclipse 12-16-1955
The Gadget 1-6-1956
Art Studies 1-13-1956
Volunteer Fireman 1-20-1956
Car Mix-Up 1-27-1956 This episode is viewable online at archive.org
Ricky The Organizer 2-3-1956
Safe Driver 2-10-1956
Watching Thorny's House 2-24-1956
Personal Column 3-9-1956
A Day In Bed 3-23-1956 This episode is viewable online at archive.org
Buried Treasure 3-30-1956
A Beautiful Day 4-13-1956
The Honest Face 4-20-1956
Harriet's Secret Admirer 5-25-1956
Redressing Ricky 6-8-1956
THE KAPPA SIG PARTY 10-3-1956 Ozzie wrote this episode. It was based on something that actually happened in the Nelson household.
Dwayne Hickman (TV's Dobie Gillis) is in this episode. He plays a character named Chuck which was his character's name on "The Bob Cummings Show" (1955-1959). In a conversation with David near the beginning of the show, he even mentions his Uncle Bob which was another character on "The Bob Cummings Show". The opening scene of the show with David and Chuck and their college friends appears to have been shot on location (I'm guessing here). It's a really nice touch and gets the show out of the studio.
Don tells David and Chuck that his kid brother has the measles so they can't have the fraternity rush party at his house. So the party is going to be held at David's house and the rest of the Nelsons try to help out.
This is a pristine copy of this episode and it's on DVD from Genius Entertainment ( www.geniusproducts.com ). This is one of the best copies I've seen of an Ozzie and Harriet episode. However, an alternate piece of music is used to replace the original opening and closing music to the show.
Captain Salty And The Submarine 10-10-1956
Hidden Panel 10-17-1956
Christmas In October 10-24-1956
The Banjo Player 10-31-1956
Fifty Dollar Bill 11-7-1956
Pool Table 11-14-1956
DAVID PICKS UP THE TAB 11-21-1956 This episode is viewable online at archive.org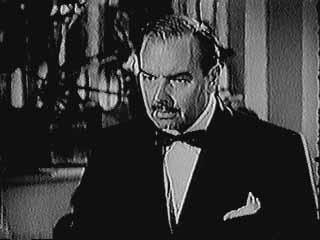 Parley Baer plays a waiter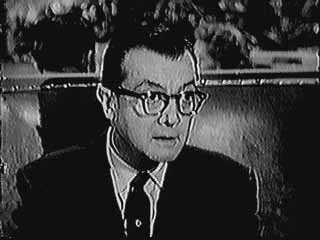 and Joseph Kearns plays Mr. Townsend, the restaurant manager in this episode. David has a misunderstanding about the restaurant. Joseph went on to play the great Mr. Wilson character on TV's Dennis the Menace.
Balloons 11-28-1956
Ricky's Car 12-5-1956
Doctor In The House 12-12-1956
The Busy Christmas 12-19-1956 This episode is viewable online at archive.org
Day After Christmas 12-26-1956
OZZIE'S DOUBLE 1-2-1957 This episode is viewable online at archive.org


There's a pickpocket around that looks like Ozzie. Ozzie suggests to a policeman, why don't you run a picture of me in the newspaper, warning people to be on the lookout for anyone that fits my description.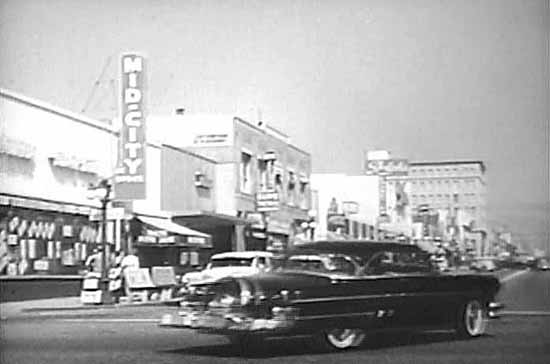 This is the downtown as pictured in this episode.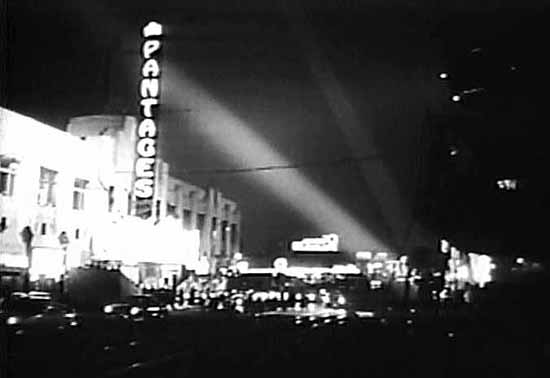 This show was sponsored was Kodak.
There's a Kodak commercial in this show that has some footage of the Pantages Theater.
There's also a Kodak commercial in this show that talks about the Brownie turret movie camera and explains the three lenses it has.
Dr. Williams (Frank Cady), Girlfriend (Mary Castle), Mrs. Brewster (Isabel Randolph), Clifford (Claude Stroud), Clerk (Sally Hughes), Woman (Vera Marshe), Mr. Ames (Richard Ryan), Officer (Ray Montgomery), Jensen (Barney Phillips), Nurse (Carol J. Byron)
Hairstyle For Harriet 1-9-1957 This episode is viewable online at archive.org
THE PUPPY 1-16-1957 Ozzie, David, and Ricky go to a pet shop looking for Harriet's birthday present. The salesman tells them that the police think a dog is a good idea since there is a cat burglar in the area. They decide to get a cute little beagle. The puppy seems to be a problem until...
Pet Shop Owner (Richard E. Elliott), The Blonde (Mary Castle), The Redhead (Lonie Blackman), The Headwaiter (Sam Flint), The Waiter (Ralph Montgomery), The Officer (Ray Montgomery)
Borrowed Tuxedo 1-23-1957
Like Father Like Son 1-30-1957
The Duenna 2-6-1957 This episode is viewable online at archive.org
Hot Dog Stand 2-13-1957
Reading Room 2-20-1957 This episode is viewable online at archive.org
Disbelievers 2-27-1957
The Clubhouse 3-6-1957
The Jet Pilot 3-13-1957 This episode is viewable online at archive.org
Ozzie And Harriet Go To Washington 3-20-1957
The Editor 3-27-1957 This episode is viewable online at archive.org
Hawaiian Party 4-3-1957
RICKY THE DRUMMER 4-10-1957 This episode is viewable online at archive.org


Tommy Jackson, the bandleader, gave Rick a break, by letting him play drums and sing with his big band. This was a really special episode. Ricky Nelson *sings "I'm Walkin" (the Fats Domino hit). It became a million selling record, and he became a rock and roll star. (One million copies of "I'm Walkin'" were sold the week after this broadcast.)
Tommy Brannigan Story 4-17-1957
Sculpturing Class 4-24-1957
Ozzie, The Treasurer 5-1-1957
Ricky's Surprise Party 5-8-1957
Night Watchman 5-15-1957
David Has A Date With Miss Universe 5-22-1957
Strict Parents 5-29-1957
Coffee Table 6-5-1957
Fishing Lure 6-12-1957
Taking Care Of Freddy 6-19-1957
The Loan 6-26-1957
FIXING UP THE FRATERNITY HOUSE 10-2-1957
Ricky *sings "Bebop Baby" and "Have I Told You Lately that I Love You?"
Man Without A Family 10-9-1957
Treasurer's Report 10-16-1957
Boys Land In Jail 10-23-1957
Mystery Shopper 10-30-1957
RICKY'S BIG NIGHT 11-6-1957
Sandy turns Ricky down for a date.
Ricky gets another opportunity when he takes David's college fraternity ring to get fixed at the jewelry store where Sandy works. But there's a misunderstanding. When she sees the Kappa Sig ring, she thinks it's Ricky's. If she knew Ricky was still in high school, she wouldn't go out with him.
The Kappa Sig fraternity sing a serenade to Ricky and his date, Sandy.
Ricky *sings "Honeycomb" and "Boppin' The Blues".
Ozzie sings "Oh Baby I'm Sorry" with Ricky and some young people.
Kodak sponsors this show.
Sandy (Elaine DuPont), Bruce, Ed, Glen, Marvin - The Four Preps, Wally (Skip Young), Fireball McDonald (Will Wright), Uncle Charlie (Alan Reynolds ), Head Waiter (Hal Smith), Mickey (Mickey Little), Freddie (Steve Stevens), Bob (Bob McKenny), Mary (Kathleen Field), Girl at Table (Rosemary Ace)
Free Flowers 11-13-1957
OZZIE'S TRIPLE BANANA SURPRISE 11-20-1957
This video on YouTube is from this episode. As of 8/2/08, it was incorrectly identified on that site as the "Tutti-Frutti Ice Cream" episode.
Fourteen Mile Hike 12-4-1957
Tutti-Frutti Ice Cream 12-11-1957
Christmas Tree Lot 12-18-1957
Ricky Goes on TV 12-25-1957
The Trophy 1-1-1958
Road Race 1-8-1958 This episode is viewable online at archive.org
Dave And The Stewardess 1-15-1958
Picture In Rick's Notebook 1-22-1958 Lorrie (Lorrie Collins), Ricky's Friends (Bob McKenny, Mickey Little, Ronald Fergens, Nancy Kilgas, Dennis Fagerhult, Jim Brandt, Paul Sullivan, Norman Hudson)
Harriet's Dancing Partner 1-29-1958
The Safe 2-5-1958
David And The Men's Club 2-12-1958
WHO IS BETTY? 2-19-1958
Rick *sings "I'm Confessin'" and "Boppin' the Blues".
Old Band Pavilion 2-26-1958
Practical Joker 3-5-1958
Scavenger Hunt 3-12-1958
Dating System 3-19-1958
Closed Circuit 3-26-1958
Top Gun 4-2-1958
Record Trout 4-9-1958
THE BACHELOR 4-16-1958
John Archer (was married to actress Marjorie Lord from Make Room For Daddy and is the father of actress Anne Archer from the movie "Fatal Attraction") tells us thanks to Ozzie and Harriet, he's married now. Then the story shifts to 6 months earlier. Harriet and Sally (Sally Hughes), Darby's wife, want to get John together with Cathy Collins (Ann Leddy) but Ozzie wants John to stay happy as a bachelor.
Ozzie does two commercials for Kodak within the show.
There's a character, Dr. Russell, in this episode. In real life, Ozzie and Harriet were married on 10-8-35, by the real Dr. Russell.
Code Of Honor 4-23-1958
Ricky Is Micky 5-7-1958
Rick's Chemistry Grade 5-14-1958
The Magic Of Three 5-21-1958
INTERNATIONAL SET 5-28-1958
Rick *sings "I'll Walk Alone" and "Shirley Lee".
OZZIE AND THE BRIDGE GROUP 6-4-1958


Ozzie's friends (Parley Baer as Herb Darby, Frank Cady as Doc Williams and Gordon Jones as Butch Barton) find out he doesn't want to play bridge with them because he's tired of being in a rut with routine living.
Kodak is the sponsor for this show. Ozzie does a commercial for a Brownie turret movie camera and explains the three lenses it has.
Darby (Parley Baer), Doc Williams (Frank Cady), Harry Benson (Steve Brodie), Butch Barton (Gordon Jones), Art Instructor (Jack Wagner), Model (Lari Laine), Mailman (Richard Gittings), Men At Fight (Barney Phillips, Frank Richards)
A Cruise For Harriet 6-11-1958
David Loses His Poise 10-1-1958
David Becomes A Football Coach 10-8-1958
A Surprise For Clara 10-15-1958
The Pony 10-22-1958
Stealing Rick's Girl 10-29-1958
OZZIE'S DAUGHTERS 11-5-1958
David invited two girls to come to the dance that have to come from 60 miles away. So, David and Ricky are going to stay at the fraternity. And the two girls will stay at the Nelson house with Ozzie and Harriet. David and Ricky come to their own house to pick up the girls for the dance and encounter their father, Ozzie, who is acting like a father for the two girls.
Ozzie Spills The Beans 11-12-1958
RICK'S RIDING LESSONS 11-19-1958 This episode is viewable online at archive.org
Rick pretends he doesn't know how to ride a horse so he can get lessons from a cute riding instructor.
Dave says he's going to write a book and call it the adventures of Ozzie and Harriet.
Rick *sings "Trying To Get To You".
Rick *sings "Cindy", along with Ozzie, Harriet, David and the rest of the group. Ozzie and David both do solos during this song.
First commercial - Ozzie does a Kodak commercial with Dave and Rick. Ozzie explains the quickest way to a pretty girl's heart.
Second commercial - The Brownie Starmatic camera gives the right exposure time after time automatically. The camera measures light with its electric eye light meter and automatically adjusts the lens. The lens will open or close to give the correct exposure automatically in sun or shade.
Third commercial - Next week, The Adventures of Ozzie and Harriet will be brought to you by the Quaker Oats Company. Ozzie and Harriet do an Aunt Jemima pancake commercial.
Wally (Skip Young), Judy (Venetia Stevenson), Mr. Sanders (Ray Teal), Hank (Emmett Lynn), Stable Hand (Ted Budny)
Harriet Creates A Triangle 11-26-1958
The Dress Shop 12-3-1958
The Motorcycle 12-10-1958
Helpful Neighbor 12-17-1958
The Runaways 1-7-1959
Rick's Scientific Date 1-14-1959
Rick's Dinner Guests 1-21-1959
OZZIE AND THE SPACE AGE 1-28-1959
The Bijou Theater offers $1000 for someone who can get a picture of a flying saucer. Darby (Parley Baer) and Doc Williams (Frank Cady) trick Ozzie into posing with a camera, bat, and umbrella so they can get his picture.
Theatre Manager (Joseph Kearns), Stanley (Stanley Livingston)
Jealous Joe Randolph 2-4-1959
Composite Girl 2-11-1959
Ozzie's Old Teammate 2-18-1959
Newspaper Interview 2-25-1959
THE EXPLODING BOOK 3-4-1959
Since they're interested in the same girl, Wally (Skip Young) tries to trick David into giving her a gag gift. But Ricky is also in the mix.
Ricky *sings a great upbeat song, "You Tear Me Up".
Closing announcements: David Nelson's motion pictures, The Big Circus, and Day Of The Outlaw, and Ricky's album, Songs By Ricky.
Betty (Luana Patten), Clara (Mary Jane Croft), Mrs. Dipple (Madge Blake)
Ozzie Changes History 3-11-1959
The Tent 3-18-1959
Ricky, The Bullfighter 3-25-1959
Togetherness 4-1-1959
THE OTHER GUY'S GIRL 4-8-1959
Rick *sings "It's Late".
THE TREASURER'S SON 4-15-1959
Rick *sings "You Tear Me Up" and "I Can't Help It".
Always A Bridegroom 4-22-1959
Costume Dance 4-29-1959
Full House 5-6-1959
Little Black Box 5-13-1959
The Buckingham 5-20-1959
Girl In The Bowling Alley 5-27-1959
Darby The Rockhound 6-3-1959
Taking Advantage Of Harriet 6-10-1959
Ozzie Plans A Surprise 6-17-1959
Sea Captain 10-7-1959
Ozzie The Host 10-14-1959
David The Law Clerk 10-21-1959
Who Needs Girls 10-28-1959
Rancher's Daughter 11-4-1959
The Nelsons Decide To Move 11-11-1959
David The Sleuth 11-18-1959
The Gas Station 11-25-1959
FATHERS' NIGHT AT THE FRATERNITY HOUSE 12-2-1959
The fraternity, that Ricky and David belong to, needs down payment money for a swimming pool. Ozzie plans to raise money for a scholarship fund at his men's club by locking the exits and hitting the group then for money. He suggests this method to David.
At the end of the episode, Ricky *sings "Mighty Good".
Joe Randolph (Lyle Talbot), Darby (Parley Baer), Doc Williams (Frank Cady), Wally (Skip Young)
Happy Anniversary 12-9-1959
RICK GETS EVEN 12-16-1959
Tuesday Weld appears as Cathy in this episode.
Rick *sings "For You".
An Interest For Harriet 12-30-1959
Ozzie Keeps A Secret 1-6-1960
Dave's Car Payments 1-20-1960
THE CIRCUS 1-27-1960
Mr. Dobson agrees to let David go to the circus if he will serve a summons. Then, David discovers the summons is for Roberto Cantini. Who is Roberto? David and Ricky performed all their own trapeze work in this episode.


The Adventures of Ozzie and Harriet actually changed its name to The Adventures Of The Nelson Family during some episodes of 1960 and this was one of them.
Rick's English Literature Class 2-3-1960
The Lockout 2-10-1960
Uninvited Guests 2-17-1960
A Trap For Ricky 2-24-1960
An Interesting Evening 3-2-1960
Dave Goofs Off 3-9-1960
Magic Dishes 3-16-1960
Professor's Experiment 3-30-1960
The T-Shirts 4-6-1960
Missing Husband 4-13-1960
Bad Day At Blueberry Rock 4-27-1960
Dave And The Schoolteacher 5-4-1960
Carol Wilson (Cindy Robbins, played Pearl in "I Was A Teenage Werewolf"), Mrs. Hastings (Madge Blake), Mrs. Stevens (Paula Winslowe), Stanley (Stanley Livingston)
Big Plans For Summer 5-11-1960
Forgotten Promise 5-18-1960
Painting The Sorority House 5-25-1960
No News For Harriet 6-8-1960 This episode is viewable online at liketelevision.com
Weekend Vacation 6-15-1960
Fraternity Junk Drive 9-28-1960
David Gets Discouraged 10-5-1960
Ozzie, The Boat Keeper 10-12-1960
HIS BROTHER'S GIRL 10-19-1960
Dave is put in a situation to go out with Jane (June Blair), a girl that Ricky has been dating. But it's Ricky's idea, since he has a test to study for. Dave feels awkward about it because he knows from Jane's little brother that she is more interested in him.
This episode is really well done.
Rick *sings "Yes Sir, That's My Baby"
DAVID GETS A RAISE 10-26-1960
A mistaken impression by Mr. Kelley (Joe Flynn) and Dean Harris (Howard Wendell) that Dave is married, results in a good news for Dave and Mr. Kelley.
Wally (Skip Young), Mrs. Kelley (Peggy Knudsen), Miss Edwards (Constance Harper), Zeke (Ted Budny), Jane (Katie Regan)
The Table And The Painting 11-2-1960
A Sweater For Rick 11-9-1960
A Friend In Need 11-16-1960
DAVID'S ALMOST IN-LAWS 11-23-1960
Harry (John Hubbard) and Edith Wilson (Lucy Prentis) think that their daughter June (Judi Sherven) and David are really interested in each other. Ozzie and Harriet think the same thing. So, Ozzie and Harriet and Harry and Edith start socializing together but the 2 husbands just can't seem to get along. This was a classic episode.
Harry (John Hubbard), Edith (Lucy Prentis), June (Judi Sherven), Joe Randolph (Lyle Talbot), Wally (Skip Young), Counterman (Russ Thompson), Cashier (Dorothy Abbott), Waiter (George Byrne), Sharon (Sharon Hillyer)
DAVID HIRES A SECRETARY 11-30-1960


In this episode, June Blair (pictured above) played the part of Kathy Carson. David and Miss Edwards, a secretary, work at the law firm of Dobson & Kelley. David hired Kathy to fill in for the vacationing Miss Edwards.
A Lawnmower For Ozzie 12-7-1960
GIRL IN THE EMPORIUM 12-14-1960 Rick and Wally notice an attractive salesgirl at the Emporium, so both apply for Christmas jobs there.
A PIANO FOR THE FRATERNITY 12-21-1960
Rick *sings "Jingle Bells" and the Four Preps sing "Winter Wonderland".
RICK COUNTS THE BALLOTS 12-28-1960
Rick, Wally and some other guys have the responsibility of counting the votes for the prom queen election, and also, keeping it a secret.
Rick and the woman that plays Terri Johnson in this episode *sing a duet, "You Are The Only One".
The name of the actress that played Terri was unavailable on the video I saw. After the credit page for the four Nelsons came up, the picture went to black.
Girl Who Loses Things 1-4-1961
Safe Husbands 1-11-1961
The Lost Briefcase 1-18-1961
THE CHAPERONES 1-25-1961
Big misunderstandings have people wondering where a faternity is to be held and Ozzie and Harriet are to be the chaperones.
Wally (Skip Young), Harry (David Lewis), Dorothy (Lucy Prentis), Desk Clerk (Richard Deacon), Joyce (Terry Huntingdon)
BOWLING WITH THE WIVES 2-1-1961
Ozzie and the guys go bowling together and get exercise that way, so he suggests to Harriet that she should get some exercise too. So Harriet's bridge group gets an idea to go bowling with their husbands.

Joe Randolph.....Lyle Talbot
Darby............Parley Baer
Clara Randolph...Mary Jane Croft
Doc Williams.....Frank Cady
Sally............Sally Hughes
June.............June Fenley
Helen............Mary Benoit

OUR MAN IN ALASKA 2-8-1961
Everything the guys in the fraternity talk about winds up in the school paper, and they try to find how it's happening.
Ricky *sings "You Are The Only One".
(Wally reads out of an old text book that man will never break the sound barrier.)

Wally......Skip Young
Richard....Richard Correll
           (played Richard Rickover on Leave It To Beaver) 

Two Small Boys And A Dog 2-15-1961
THE BOYS' PORTRAITS 2-22-1961
Rick *sings "You Are the Only One"
MR. KELLEY'S IMPORTANT PAPERS 3-1-1961
Clara Randolph (Mary Jane Croft) took a call from David's boss, Mr. Kelley (Joe Flynn), and he needs some papers that David has by the next morning. But Mr. Kelley is out of town at a lodge.

Joe Randolph....Lyle Talbot
The Watchman....Bob Jellison

Dave's Golf Story 3-8-1961
Rick's Broken Arm 3-15-1961
THE LITTLE HOUSE GUEST 3-22-1961


Stanley Livingston's real life younger brother, Barry Livingston, had a memorable part on Ozzie and Harriet before he played Ernie Douglas on My Three Sons. He played the part of Barry Martin, a nice little kid who stayed with the Nelsons when his mother was due to give birth. As you can see, Barry had a great time eating ice cream at the Nelson's house.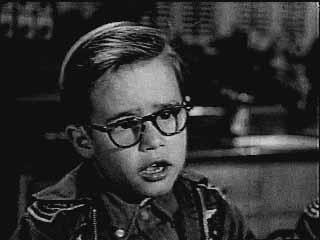 This is another picture of Barry.
Manly Arts 3-29-1961
A Question Of Suits And Ties 4-5-1961
The Pen And Pencil Set 4-12-1961
SELLING RICK'S DRUMS 4-19-1961
Ricky *sings "Hello Mary Lou".
E.S.P. 4-26-1961
Rick's 21st Birthday 5-3-1961
Built In TV Set 5-10-1961
Dancing Lessons 9-28-1961
High Cost Of Dating 10-5-1961
Newlyweds Get Settled 10-12-1961
The Fraternity Rents Out A Room 10-19-1961
Dave Goes Back To Work 10-26-1961 This episode is viewable online at liketelevision.com
Ten For The Tigers 11-2-1961
Rick Grades A Test 11-9-1961
Barking Dog 11-16-1961
Rick Comes To Dinner 11-30-1961
Trading Stamps 12-7-1961
RICKY THE MILKMAN 12-14-1961
Harvey Mitchell (Ben Bennett) is studying for his Masters Degree and has 4 exams coming up. He asks Ricky and Wally (Skip Young) to take his milk route over for a couple of days and they accept. While delivering milk to one house, Rick meets a beautiful friendly woman, Lori (Susan Oliver).
Ricky *sings "Everlovin'".

Jack.....Jack Wagner

The Fraternity Pin 1-4-1962
Backyard Pet Show 1-11-1962
THE SPECIAL CAKE 1-18-1962
June (June Blair) tells Harriet today is the one year anniversary that David proposed to her. Harriet says she'd make Ozzie his favorite cake to remind him of special occasions. Then June gets an idea.

Charley......Charley Britt
Jack.........Jack Wagner
Joe..........Joe Byrne
The Waiter...Dick Ryan

The Randolph's Niece 1-25-1962
A Lamp For Dave And June 2-1-1962
Fraternity Cook 2-8-1962
Operation Barry 2-15-1962
Making Wally Study 2-22-1962
Lending Money To Wally 3-8-1962
Lonesome Parents 3-15-1962 This episode is viewable online at archive.org
Client's Daughter 3-29-1962
Student Nurse 4-5-1962
Barry's Birthday 4-12-1962
Little Handprints In The Sidewalk 4-19-1962
RICK AND THE MAID OF HONOR 9-27-1962
Rick's friend Jimmy is getting married to Linda. But Rick gets the idea that the maid of honor, Roberta, would like to be his bride.
Rick *sings "I Will Follow You".

Wally...........Skip Young
Jimmy...........Jimmy Hawkins
Linda...........Linda Hines
Roberta.........Roberta Shore
The Minister....Stu Wilson
Jack............Jack Wagner
Pretty Girl.....Pamela Austin
Fred............James Stacy
Charley.........Charley Britt
Joe.............Joe Byrne
Dink............Karl Kindberg
The Pledge......Nino Candido
George Wilcox...Terry House
The Girl........Celeste Yarnall                                    

Jimmy Hawkins played Tommy Bailey in the 1946 movie "It's a Wonderful Life".
Linda Hines, also known as Lori Saunders, played Bobbie Jo Bradley on "Petticoat Junction".
Mrs. Bradford's Recipe 10-4-1962
The Apartment 10-11-1962
Rick And The Sculptress 10-18-1962
Trip To Mexico 10-25-1962
TIGER DANCE 11-1-1962 This episode is viewable online at archive.org
This episode is rated #93 of TV LAND'S TOP 100 GREATEST EPISODES EVER.
Harriet is organizing a children's dance that will be held at the Women's Club Saturday afternoon. The dance needs boys so Ozzie volunteers to ask members of the Tigers Club to go.

Barry.....Barry Livingston
Pat.......Pat Thompson
Kim.......Kim Tyler
Janet.....Janet Waldo
          (Janet was the voice of:
          Judy Jetson in The Jetsons
          Josie in Josie and the Pussycats)
Jack......Jack Wagner
Ronnie....Ronnie Dapo
Suzy......Laurie Nelson
Jimmy.....Gil Smith

THE WOMEN'S CLUB PLAY 11-8-1962
Rick *sings "My One Desire".
Rick Sends A Picture 11-15-1962
Rick, The Host 11-22-1962
Losing Miss Edwards 11-29-1962
Old Friend Of June's 12-13-1962
Game Inventors 12-27-1962
Rick And The Boat Model 1-3-1963
June And The Great Outdoors 1-10-1963
The Girl At The Ski Lodge 1-17-1963
Roadside Courtesy 1-31-1963
Dave And The Teenager 2-7-1963
Adventurers 2-14-1963
The Goat 2-28-1963
ANY DATE IN A STORM 3-7-1963
Rick *sings "You Don't Love Me Any More."
Decorating Dave's Office 3-21-1963
Publicity For The Fraternity 3-28-1963
Women's Club Bazaar 4-4-1963
Dave's Law Office 4-11-1963
Dave And The Fraternity Lease 4-18-1963
Music Festival 6-6-1963
Torn Dress 9-18-1963
Secret Agent 9-25-1963
Ozzie, Joe, And The Fashion Models 10-2-1963
Rick's Wedding Ring 10-9-1963
Getting Wally In Shape 10-16-1963
Blue Moose 10-23-1963
DAVID TAKES A CLIENT TO DINNER 10-30-1963
Rick *sings "The Very Thought of You" and "For You".
Wally's Pen Pal 11-6-1963
Lawyers' Convention 11-13-1963
Money Watchers 11-20-1963
June Is Always Late 11-27-1963
Ozzie's Hidden Trophy 12-4-1963
Rick Makes A Loan 12-11-1963
Rick And The Mermaid 12-18-1963
Swami 1-8-1964
Getting Together With The Boys 1-15-1964
Rick's Wedding Picture 1-22-1964
A Wife In The Office 2-5-1964 This episode is viewable online at liketelevision.com
Dean's Birthday 2-12-1964
Uniforms 2-19-1964
Wally's TV Set 2-26-1964
Hayride 3-11-1964
RICK, THE LAW CLERK 3-18-1964
David offers Rick a job as a law clerk in the law office and he accepts. Ozzie and Harriet are concerned how their sons will get along working together. But, Judge Roy Roberts (Roy Roberts) has a nephew, Carlisle Vanderpool, (Buck Taylor, son of actor Dub Taylor), who would also like the law clerk's job.
In this episode, Rick refers to himself by his real name, Eric H. Nelson (the H. stands for Hilliard).

Miss Connie Edwards...Constance " Connie " Harper
                      (was married to Don Nelson
                      Ozzie's brother)

Rick Is Late For Dinner 3-25-1964
A Letter About Harriet 4-1-1964
RICK AND THE GIRL ACROSS THE HALL 9-16-1964
Rick *sings "There's Nothing I Can Say".
Rick's Old Printing Press 9-23-1964
Study System 9-30-1964
RICK AND KRIS GO TO THE MOUNTAINS 10-7-1964
Rick *sings "Mean Old World".
A Letter Of Recommendation 10-14-1964
Kris Goes To College 10-21-1964
THE PENNIES 10-28-1964 This episode is viewable online at archive.org
Some neighborhood kids trust Ozzie with their coins enough to bury them in the Nelson's backyard. Not knowing the coins are part of a collection, Ozzie uses them for a poker game.

Darby...Parley Baer
Doc.....Frank Cady
Billy...Billy Mumy

Ballerina 11-4-1964
A BEDTIME STORY 11-11-1964
Rick *sings "Mean Old World".
Harriet's Quiz 11-18-1964
KRIS PLAYS CUPID 11-25-1964
Kris gets involved in a problem Wally (Skip Young) and Ginger (Charlene Salerno) are having. Wally shows up at Kris' and Rick's dinner party with another girl, Melinda (Diane Sayer), but look out, Ginger is there too.
Ricky *sings "A Happy Guy".
Helpless Female 12-2-1964
EXOTIC HOUSEMOTHER 12-9-1964
Rick and his college buddies have an exotic dancer, Bubbles (Mamie Van Doren), as their housemother for their fraternity.
Rick *sings "Yesterday's Love".

Wally...........Skip Young
Dean Hopkins....Ivan Bonar
TV Interviewer..Bob Eubanks
Kent............Kent McWhirter
                (Kent McCord in Adam 12) 

Chess Set 12-16-1964
Cafe Caper 12-30-1964
The Petition 1-6-1965
DAVE, THE FRATERNITY ADVISOR 1-13-1965
Rick *sings "Happy Guy".
Rick Grows A Beard 1-20-1965
Big Dog 1-27-1965
The Trunk 2-3-1965
Kris's Girlfriend 2-10-1965
RICK'S RAISE 2-17-1965
Wally raises the issue of asking for a raise at the Malt Shop. Rick starts thinking he might need to ask for a raise too, at the law office, where he works with his brother, David.
Breakfast For Harriet 2-24-1965
Desk Photo 3-3-1965
Early Rush Party 3-10-1965
Painting From The Past 3-17-1965
Tangled Web 9-15-1965
A Rose A Day 9-22-1965 This episode is viewable online at archive.org
Kris And The Queen 9-29-1965 This episode is viewable online at liketelevision.com
HELPFUL JUNE 10-6-1965
Rick *sings "Love and Kisses".
Prowler 10-13-1965
THE NELSONS REVISITED 10-20-1965
Rick *sings "Say You Love Me".
Secret Passage 10-27-1965
Wally The Author 11-3-1965
A Message From Kris 11-10-1965
Flying Down To Lunch 11-17-1965 This episode is viewable online at liketelevision.com
Equestrians 11-24-1965
Dave, The Worrier 12-1-1965
GHOST TOWN 12-8-1965
Rick *sings "Truck-Driving Man" and "I Catch Myself Crying".
David Picks A Pie 12-15-1965
Kris, The Little Helper 1-5-1966
Sheik Of Araby! 1-15-1966
Wally's Traffic Ticket 1-22-1966
An Honor For OZ 1-29-1966
Hong Kong Suit 2-5-1966
Ozzie A Go-Go 2-12-1966
Trip Trap 2-19-1966
Waiting For Joe 2-26-1966
Rick's Assistant 3-5-1966
David's Other Office 3-12-1966
Ozzie, The Sitter 3-19-1966
THE GAME ROOM 3-26-1966 This was the last show and it was completed on 1-1-1966.
Ozzie and Harriet list of episodes last updated 12-4-11
Ozzie and Harriet episode list from imdb.com