The Thin Blue Line Timeline

08/25/88. The Thin Blue Line was a documentary movie, original music composed by Philip Glass, directed by Errol Morris.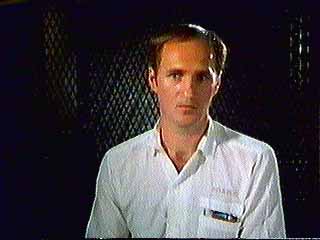 This is a frightening look at how badly justice can miscarry. It's the true story of Randall Dale Adams (pictured above) who was wrongly convicted of murdering Dallas, Texas police officer Robert Wood. This gripping documentary lets the story tell itself, with the group of people that were directly involved in the case, witnesses, law enforcement officers, the judge and the lawyers. The film, with an incredible music score that sounds like musical teardrops, pulled me deeply into this real life drama to the point one wonders how in the world could something like this happen to an innocent man.
The people interviewed for the movie "The Thin Blue Line" are listed below.
Randall Adams
David Harris
Gus Rose, Jackie Johnson, Marshall Touchton (Homicide Detectives in Dallas)
Dale Holt (Internal Affairs Investigator in Dallas)
Sam Kittrell (Police Detective in Vidor)
Hootie Nelson, Dennis Johnson, Floyd Jackson (Friends of David Harris in Vidor)
Edith James, Dennis White (Defense Attorneys)
Don Metcalfe (The Judge)
Emily Miller, R.L. Miller (Surprise Eyewitnesses)
Elba Carr (Employee at Fas-Gas)
Michael Randell (Third Surprise Eyewitness)
Melvyn Carson Bruder (Appellate Attorney)
Harris testified in court that Randall Dale Adams shot Dallas police officer Robert Wood.
04/--/89. First Assistant District Attorney Douglas Mulder, the prosecutor in this case, should have been interviewed for "The Thin Blue Line" DVD that was released. There was an article in D Magazine called Mad Dog Mulder.
04/10/89. Crossing a Line That Is Not Thin at All, Randall Dale Adams Wins Release from a Texas Prison. People magazine.
10/25/90. The Thin Blue Line: An Errol Morris Film [SOUNDTRACK] is available at www.amazon.com.
06/--/92. The book about this case, Adams V. Texas, by Randall Dale Adams, William Hoffer, Marilyn Mona Hoffer is available at www.amazon.com.
03/09/95. Lambs to the slaughter Laws to speed executions will make it harder to save Death Row's innocent. Dallas Observer.
09/--/01. Texas Monthly magazine has an article about Randall Dale Adams.
06/30/04. David Harris was executed for the 1985 shooting death of Mark Mays. This is Harris' last statement.
07/02/04. Radio interview with Errol Morris, the director and writer of The Thin Blue Line (Brian Bull, Wisconsin Public Radio)
07/26/05. The 1988 documentary The Thin Blue Line is available at www.amazon.com.
10/30/10. Randall Dale Adams passes on.
06/26/11. Northwestern University School of Law has a website explaining the case of Randall Dale Adams.
---
LINKS

This is a transcript of The Thin Blue Line from director Errol Morris' website.

Radio interview with Randall Dale Adams (Hugh LaFollette, WETS-FM)
---
Other Cases

The Innocence Project is dedicated to exonerating wrongfully convicted people. The website has profiles on the exonerees.

Arthur Mumphrey was cleared of rape and pardoned after serving 18 years

Timothy Cole posthumously exonerated of rape conviction

DNA testing clears Donald Eugene Gates who served 28 years
---
The Thin Blue Line last updated 11/26/11