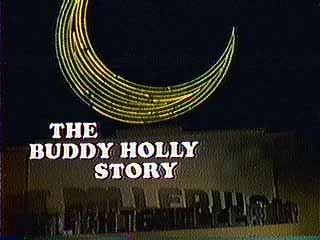 The Buddy Holly Story (movie released May 18, 1978)
Music never felt this good.
Directed by Steve Rash

The movie traces the life and untimely death of one of the best of the 1950's rock and rollers, Buddy Holly. I can't tell you how many times I've seen it. It is a very enjoyable film.

Gary Busey, nominated for an Academy Award in the best actor category - Buddy Holly
Don Stroud - Jesse
Charles Martin Smith - Ray Bob
Conrad Janis - Ross Turner
William Jordan - Riley
Maria Richwine - Maria Elena Holly
Amy Johnston - Cindy Lou
Fred Travalena - Madman Mancuso
Richard Kennedy - the Preacher
Gailard Sartain - the Big Bopper
Arch Johnson - Mr. Holly
Neva Patterson - Mrs. Holly
Gloria Irizarry - Mrs. Santiago
Paul Mooney - Sam Cooke
Freeman King - Apollo M.C.
Matthew "Stymie" Beard - Luther
Jerry Zaremba - Eddie Cochran
Craig White - King Curtis
Gilbert Melgar - Richie Valens
Will Jordan - voice of Ed Sullivan


Buddy has a last minute communication with the man at the radio station before going live with his broadcast from the roller rink.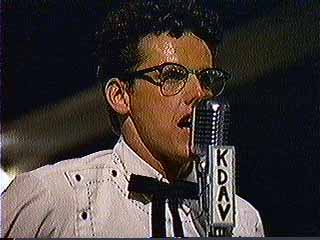 Buddy does what he does best, belt out the best rock and roll ever.


After the town has heard Buddy's rock and roll at the roller rink, he and his girlfriend get a verbal beating from the church preacher, blasting away at that evil music that's going to destroy the world.

Links and Other Information

This is the original trailer for "The Buddy Holly Story" from TCM.

The Buddy Holly Story was not liked by Buddy's friends and family because of the historical inaccuracies. Buddy's band went to court and attempted to keep the film from being released. They were unsuccessful.

The Memorial to Buddy Holly, J.P. "The Big Bopper" Richardson, and Richie Valens, at the Surf Ballroom in Clear Lake, Iowa.

The Official Community of Buddy Holly

Story about Buddy Holly's 1958 Chevrolet Impala (from You Tube)

Bill White, who is running for Texas Governor in 2010, started the morning at 7:15 a.m. taking questions from callers at KRFE in Lubbock. Buddy Holly got his start hosting a show on KDAV in the same studio that White recorded in this morning. They believe they were the first full-time country radio station in America. (posted on Bill White's Facebook page on 4/29/10)

The Buddy Holly Story last updated 4/29/10