Dennis The Menace 10/4/59 - 9/22/63 CBS
146 episodes
This is a great family situation comedy based on the Dennis The Menace comic strip from Hank Ketcham. The best comedy in the show came when Dennis and Mr. Wilson were in a conflict together.
Dennis Mitchell's address - 627 Elm, Hillsdale, USA
Mr. Wilson's address - 625 Elm
Dennis "The Menace" Mitchell - Jay North
Henry Mitchell, his father - Herbert Anderson
Alice Mitchell, his mother - Gloria Henry
George Wilson - Joseph Kearns
Martha Wilson, George's wife - Sylvia Field
Tommy Anderson, Dennis' friend - Billy Booth
Margaret Wade, the girl with the curls - Jeannie Russell
Esther Cathcart, always looking for a husband - Mary Wickes
John Wilson, Mr. Wilson's brother - Gale Gordon - Joseph Kearns (the original Mr. Wilson) passed on before the filming was completed for the 1961-62 season. In May 1962, Gale joined the cast as John Wilson, Mr. Wilson's brother. In the fall of 1962, John returned as if he had always been the sole Mr. Wilson, but his wife's name was Eloise.
Eloise Wilson - Sara Seeger
Mr. Quigley - Willard Waterman - He was radio's "The Great Gildersleeve" replacing Harold Peary. Willard was in the 1955 TV version of "The Great Gildersleeve".
Jimmy - Jimmy Hawkins
Fremont, Mr. Wilson's Dog - sign on Mr. Wilson's fence: Beware Of The Dog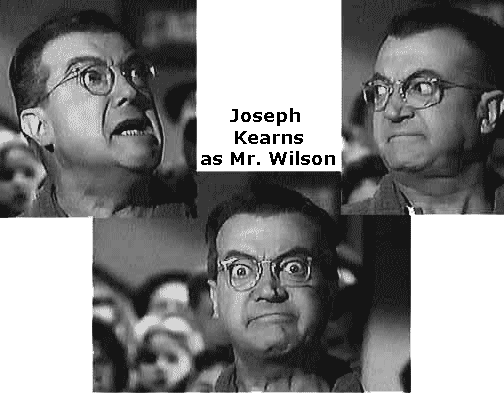 A policeman is taking Mr. Wilson (Joseph Kearns) away and he yells for help for Dennis' dad and mom, then looks at the camera and emphasizes Dennis' name. Vintage television at its best.
---
Episode: Dennis and the Signpost 10/11/59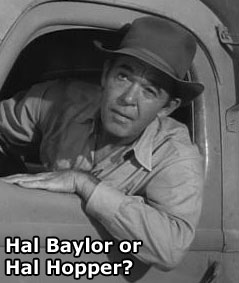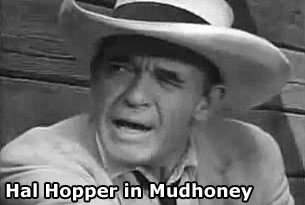 Hal Baylor is credited as the driver but he sure does look a lot like Hal Hopper who was in the 1965 movie Mudhoney. According to imdb, Hopper is the father of Jay North.
---
LINKS

Dennis The Menace is on video at www.amazon.com

Dennis the Menace webpage from Tim's TV Showcase

Episode guide for Dennis the Menace from tv.com

Picture of Jay North in later years from Genesis Creations

Picture of Jeannie Russell in later years from Genesis Creations

The official website of Hank Ketcham's Dennis the Menace

Dennis The Menace last updated 4/9/15