Andy Griffith
June 1, 1926 - July 3, 2012
---
Andy Griffith Show - Gomer Pyle U.S.M.C. - Matlock
---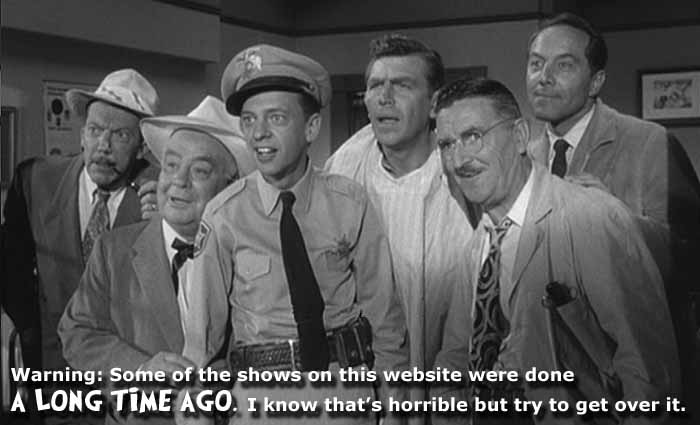 10/03/1960-09/16/1968 The Andy Griffith Show (CBS) was a great situation comedy about the people of Mayberry, North Carolina.

Andy Taylor, Sheriff of Mayberry, North Carolina - Andy Griffith
Opie Taylor, Andy's son - Ron Howard
Aunt Bee Taylor - Frances Bavier
Barney Fife, Andy's Deputy - Don Knotts
Goober Pyle, worked at Wally's Filling Station - George Lindsey
Floyd Lawson, the barber at Floyd's Barber Shop - Howard McNear
Helen Crump, Opie's teacher, a girlfriend of Andy's - Aneta Corsaut
Howard Sprague, the county clerk - Jack Dodson
Clara Edwards, a friend of Aunt Bee's - Hope Summers
Otis Campbell, the town drinker - Hal Smith
Thelma Lou, Barney's girlfriend - Betty Lynn
Gomer Pyle, worked at Wally's Filling Station, later went into the Marines - Jim Nabors
Emmett Clark, the fix-it man - Paul Hartman
Ellie Walker, a pharmacist at the drug store, a girlfriend of Andy's - Elinor Donahue
Warren Ferguson, Andy's Deputy for a while - Jack Burns
Mayor Pike - Dick Elliott
Ernest T. Bass, the mountain man - Howard Morris
Karen Burgess - Ronda Jeter
Roy Stoner, Mayberry Mayor - Parley Baer
Briscoe Darling - Denver Pyle
Charlene Darling - Maggie Peterson
Reverend Tucker - William Keene
Emma Brand - Cheerio Meredith
Rafe Hollister - Jack Prince
Myra Tucker - Amzie Strickland
Cyrus Tankersley - George Cisar
John Masters - Olan Soule
Mrs. Larch - Maudie Prickett
Leon - Clint Howard
Mrs. Sprague, Howard's mother - Mabel Albertson
Captain Barker - Ken Lynch
Sam Jones - Ken Berry
Flora - Alberta Nelson
Peggy McMillan - Joanna Cook Moore
Malcolm Merriweather - Bernard Fox
Ben Weaver - Will Wright
Jim Lindsey - James Best
Millie Hutchins - Arlene Golonka
Farley Upchurch - Frank Cady
Malcolm Tucker - Robert Emhardt
Gilly Walker - Larry Hovis
Bernie, the furrier - Ronnie Schell
Announcer in the opening credits / Stokes County Game Warden - Colin Male

1960-1961 Season 1

12/19/1960 Christmas Story
04/03/1961 A Plaque For Mayberry
05/08/1961 Barney Gets His Man
05/15/1961 The Guitar Player Returns
05/22/1961 Bringing Up Opie

1961-1962 Season 2

1962-1963 Season 3

11/12/1962 Lawman Barney
12/03/1962 Opie's Rival

01/14/1963 Man In a Hurry. A man in a hurry, Malcolm Tucker, has to reluctantly spend time in Mayberry because of car trouble. He's in for some experience. Pastor (William Keene), Wally (Norman Leavitt), Gomer Pyle (Jim Nabors), Malcolm Tucker (Robert Emhardt)

02/04/1963 Class Reunion
03/04/1963 Andy Discovers America
04/08/1963 The Rivals

1963-1964 Season 4

1964-1965 Season 5

03/15/1965 The Case Of The Punch In The Nose. Trouble flies when Barney tries to complete a 19 year old case between Floyd and Mr. Foley. It's mentioned that Mr. Foley is a distant kin to Otis. And Foley is Johnny Paul's uncle. Aunt Bee (Frances Bavier), Floyd the Barber (Howard McNear), Mr. Foley (Frank Ferguson), Gilly Walker (Larry Hovis), Goober (George Lindsey)

05/03/1965 Banjo Playing Deputy. Jerry, a banjo player at the carnival, loses his job. So Andy lets Jerry help around the courthouse. But Jerry wants to be a deputy.

Don Knotts left the show after this season was over. He was not in this last episode of season 5, but his hometown of Morgantown, West Virginia is mentioned. Aunt Bee (Frances Bavier), Floyd the Barber (Howard McNear), Flossie (Sylvia Lewis), Manager (Herbie Faye), Miss Bedloe (Hope Summers), Miss Roundtree (Mary Lansing), Woman (Jean Inness), Frankie (Robert Carricart), Skip (Lee Van Cleef), 1st Character (Tom Steele), 2nd Character (Bill Catching), Jerry (Jerry Van Dyke)

1965-1966 Season 6

1966-1967 Season 7

02/20/1967 The Statue. Mayberry does not have a statue. Seth Taylor, a relative of the Taylors, is selected. But there is more to be learned about Seth Taylor. Goober (George Lindsey), Howard Sprague (Jack Dodson), Floyd (Howard McNear), Clara (Hope Summers), Brian Jackson (Dal McKennon), Cyrus Tankersly (George Cisar)

04/10/1967 Goober's Contest. There's a problem with a giveaway contest at Wally's Filling Station.

1967-1968 Season 8

09/11/1967 Opie's First Love. Opie wants to ask Mary Alice Carter to Arnold's 13th birthday party, but she has someone else in mind. Helen (Aneta Corsaut), Goober (George Lindsey), Mary Alice (Suzanne Cupito), Arnold (Sheldon Collins), Iris (Joy Ellison), Doyle (Owen Bush), Fred Simpson (David Alan Bailey), George (Kevin Tate)

Suzanne Cupito later was credited as Morgan Brittany on Dallas when she played Katherine Wentworth. Sheldon Collins in earlier episodes of this show was credited as Sheldon Golomb. Joy Ellison had played different characters on this show in previous episodes. David Alan Bailey had in previous episodes of this show been credited as David A. Bailey and had played the character of Trey Bowden.

12/18/1967 Howard's New Life. Howard sees a travelogue about the Caribbean Islands. And Opie makes some negative comments concerning Howard's job. So Howard quits his job and decides to move to St. Benedict's, the pearl of the Caribbean. This is a good episode.

01/08/1968 Emmett's Brother-In-Law. Emmett leaves his fix-it shop to take a job with his brother-in-law's insurance business.

01/15/1968 Opie's Drugstore Job. There's a situation for Opie at his drugstore job.

02/05/1968 Goober Goes To The Auto Show. Who has accomplished more, Goober or a friend of his?

03/18/1968 Opie And Mike. Mike is being bullied by Edgar, a boy at school. Opie steps in to help but has less time for Mike after noticing his new neighbor, Heather. Goober (George Lindsey), Sam Jones (Ken Berry), Mike Jones (Buddy Foster), Heather (Diane Quinn), Claudia (Kellie Flanagan), Edgar (Russell Schulman). According to imdb, Buddy's sister is Jodie Foster.

03/25/1968 A Girl For Goober. Sam has an idea that a computer dating service might help Goober. This is a good episode. Goober (George Lindsey), Helen (Aneta Corsaut), Sam Jones (Ken Berry), Miss Gibson (Nancy Malone), Mr. Franklin (Tod Andrews), Doris (Maggie Peterson), Waiter (Richard Poston), Man (George Sawaya), Girl (Yvonne Shubert). Maggie Peterson had appeared as Charlene Darling in some previous episodes of The Andy Griffith Show.

Links

04/13/1986 Return To Mayberry

02/10/1993 Andy Griffith Show Reunion

03/21/2000 Inside TV Land: The Andy Griffith Show

11/11/2003 The Andy Griffith Show Reunion: Back to Mayberry

07/22/1999 Archive of American Television interviews with Andy Griffith (5/5/98) - Don Knotts

2004 The Andy Griffith Show receives The Legend Award from the TV Land Awards

Brad Paisley music video "Waitin' On A Woman" featuring Andy Griffith

Ron Howard's Call To Action with Andy Griffith and Henry Winkler

The Andy Griffith Show Rerun Watchers Club

The Andy Griffith Show website

Words to the theme song for The Andy Griffith Show

The Andy Griffith Show has a TV Land Landmark at Pullen Park, in Raleigh, North Carolina.

The Andy Griffith Show And The Real Mayberry

Mayberry Memories: The Andy Griffith Show Photo Album (Hardcover) ~ Jim Clark (Author), Ken Beck (Author), says CBS affiliate WFMY-TV in Greensboro, North Carolina has aired The Andy Griffith Show from the very beginning. The station airs the epilogues that other stations frequently don't air. Thank you very much, WFMY-TV.

Close-ups Conversations with our TV Favorites by Eddie Lucas has an interview with actress Elinor Donahue. The rest of the book has interviews with stars from other shows.

I Appreciate It: My Life (Hardcover) ~ Andy Griffith (Author), Jim Clark (Contributor)

The Way Back to Mayberry: Lessons from a Simpler Time (Paperback) ~ Joey Fann (Author), George "Goober" Lindsey (Foreword)

Mayberry 101: Behind the Scenes of a TV Classic (Paperback) ~ Neal Brower (Author)

The Incredible Mr. Don Knotts (Hardcover) ~ Stephen Cox and Kevin Marhanka (Author)

The Definitive Andy Griffith Show Reference: Episode-by-Episode, with Cast and Production Biographies and a Guide to Collectibles (Paperback) ~ Dale Robinson (Author), David Fernandes (Author)

Ron Howard: From Mayberry to the Moon...and Beyond (Hardcover) ~ Beverly Gray (Author)

Facebook page for The Andy Griffith Show Rerun Watchers Club

July|August 2010 Whistle if You Love Andy Griffith. As "The Andy Griffith Show" turns 50, Americans still find comfort in our favorite small-town sheriff. This is an article online and in the AARP magazine in this issue.
---
09/25/1964 - 09/19/1969 CBS. Gomer Pyle U.S.M.C.
Gomer Pyle - Jim Nabors
Sgt. Vince Carter - Frank Sutton
Bunny - Barbara Stuart
Corporal Boyle - Roy Stuart
Private Duke Slater - Ronnie Schell
Sgt. Hacker - Allan Melvin
Lou Ann Poovie - Elizabeth MacRae
Colonel Gray - Forrest Compton
Larry - Larry Hovis
Sergeant Whipple - Buck Young
Corporal Jensen - Victor Brandt
Friendly Freddy - Sid Melton
Toby Igler was mentioned in at least two episodes of Gomer Pyle U.S.M.C., "My Buddy - War Hero" and "Gomer, The Peacemaker". Toby was Frank Sutton's wife in real life.
1964-1965 Season 1
1965-1966 Season 2
09/17/1965 PFC Gomer Pyle. Jack Larson is in this episode. He played Jimmy Olsen in Adventures of Superman on TV.
10/22/1965 Supply Sergeants Never Die. Sergeant Carter thinks anybody can do Supply Sergeant Singer's job. Actor Jeff Corey does a great job in his role as Singer.
12/31/1965 Gomer Pyle, Civilian. Instead of taking his furlough, Gomer takes a civilian job on the base.
1966-1967 Season 3
1967-1968 Season 4
09/08/1967 A Visit From Aunt Bee. Frances Bavier, Tommy Noonan.
09/22/1967 Corporal Carol. Carol Burnett.
09/29/1967 Leader Of Men. Parley Baer, Allan Melvin, Jeff Morrow.
10/06/1967 Beautiful Dreamer. Richard Collier, Jack Riley.
10/13/1967 The Great Talent Hunt. Jack Riley, Brian Jones.
10/20/1967 Gomer Says "Hey" To The President. Filmed with the cooperation of The Shoreham Hotel Washington, D.C. Herb Vigran, Allison Hayes.
10/27/1967 And A Child Shall Lead Them. Lukas Shimatsu, Helen Funai, Allison Hayes.
11/03/1967 The Show Must Go On. Roland Winters, The United States Marine Band.
11/10/1967 The Better Man. Tol Avery, Med Florey.
11/17/1967 To Watch A Thief. Doris Singleton, Jane Dulo, Maudie Prickett.
03/08/1968 Chef For a Day. A change is coming Gomer's way after Col. Gray compliments his cooking. This was a great episode.
1968-1969 Season 5
---
09/20/1986-09/11/1992 NBC, 11/05/1992-9/7/1995 ABC. Matlock

Ben Matlock - Andy Griffith
Charlene Matlock - Linda Purl
Tyler Hudson - Kene Holliday
Michelle Thomas - Nancy Stafford
Julie March - Julie Sommars
Cassie Phillips - Kari Lizer
Les Calhoun - Don Knotts
Conrad McMasters - Clarence Gilyard Jr.
Leanne McIntyre - Brynn Thayer
Cliff Lewis - Daniel Roebuck
Billy Lewis - Warren Frost
Jerri Stone - Carol Huston

03/03/1986 NBC Diary Of A Perfect Murder (NBC). A pilot film. Alice Hirson. Al Ruscio. Written by Dean Hargrove. Directed by Robert Day. Ben Matlock sounded like Lawyer Racehorse Haynes when talking about four line of defenses. Ben mentions going to dinner at Santino's.

Episodes
1986-1987 Season 1

09/23/1986 The Judge. Piper Laurie. Dick Van Dyke.

09/30/1986 The Stripper. Michael Faustino.

10/07/1986 The Affair. Jeff Conaway. Ivan Bonar. Charlene mentioned to Ben, Sarah said you weren't coming back to the office. Sarah was a phone operator on The Andy Griffith Show.

1987-1988 Season 2

09/22/1987 The Billionaire. Ben tells Michelle his daughter is with a law firm in Philadelphia.

11/10/1987 The Annihilator. Dick Butkus.

12/01/1987 The Network. Aneta Corsaut.

12/08/1987 Best Friend. Ben shows what he is made of in this episode. Bert Remsen.

12/15/1987 Country Boy. Candy Clark. David Carradine.

12/22/1987 The Gift. William Schallert plays a judge.

01/05/1988 The Body. Rosalind Allen (Annie Ewing on Dallas).

1988-1989 Season 3

11/29/1988 The Lemon. Ben defends neighbor Les Calhoun (Don Knotts).

01/10/1989 The Captain. Good episode about a police captain who has some trouble. Ben's full name is mentioned, Benjamin Leighton Matlock.

01/17/1989 The Vendetta. Don Knotts, Don Porter (TV's Private Secretary) and Christopher MacDonald (the movie Quiz Show) are in this episode. All actors not included on the credits.

02/07/1989 The Mayor (Part 2). Lee Arthur Greenway was mentioned in this episode. Lee Greenway was a makeup artist on The Andy Griffith Show.

02/28/1989 The Starlet. Bess Myerson might have been in the old film that is shown in this episode. She was Miss America 1945 and a panelist on TV's "I've Got A Secret". Part of the song "Lonesome Town" is sung in this episode. That song had been sung by Ricky Nelson in an episode of "The Adventures of Ozzie and Harriet".

03/07/1989 The Psychic. The name Lee Greenway was mentioned in this episode. Lee Greenway was a makeup artist on The Andy Griffith Show.

05/16/1989 The Priest. Leo Penn (Sean Penn's father). Daniel Roebuck, who was a regular later on, on Matlock.

1989-1990 Season 4
1990-1991 Season 5
1991-1992 Season 6

1992-1993 Season 7

01/21/1993 The Class. Matlock's address is given.

01/28/1993 The Singer. Singer Randy Travis is in this episode.

02/11/1993 The Juror. This is a good episode about Ben's experience on a jury panel. Former U.S. Senator Fred Thompson plays a prosecuting attorney.

Meyers Lake is mentioned by Ben. Meyers Lake had been mentioned in The Andy Griffith Show.

1993-1994 Season 8

10/07/1993 The Fatal Seduction Part 2. The town of Wilmington is mentioned.

10/14/1993 The Diner. This episode shows Ben Matlock in his earlier years defending a man accused of killing a sheriff.

11/04/1993 The Last Laugh. Milton Berle as Harvey Chase. Phil Leeds as Marty Willis. Comic Harvey Chase is accused of murder. Hillary Clinton was mentioned in this episode. This episode was written by Milton Berle and Stephen Lord.

11/11/1993 Capital Offense. Ben has a chance to help a death row inmate. Amzie Strickland was in this episode. She was on The Andy Griffith Show.

1994-1995 Season 9

04/27/1995 The Heist. This was a slow moving episode that sure did redeem itself in the end.

Mentioned in this episode: Eliot Ness and The Untouchables; Jim Fixx.

In this episode, Billy sings the Juanita song. On The Andy Griffith Show, Barney sang the Juanita song.

Matlock is available on DVD.
---
11/01/2014 Andy Griffith Show - Gomer Pyle U.S.M.C. - Matlock last updated.
---